Lalela Scarf launches leather accessories showcasing artwork by at-risk youth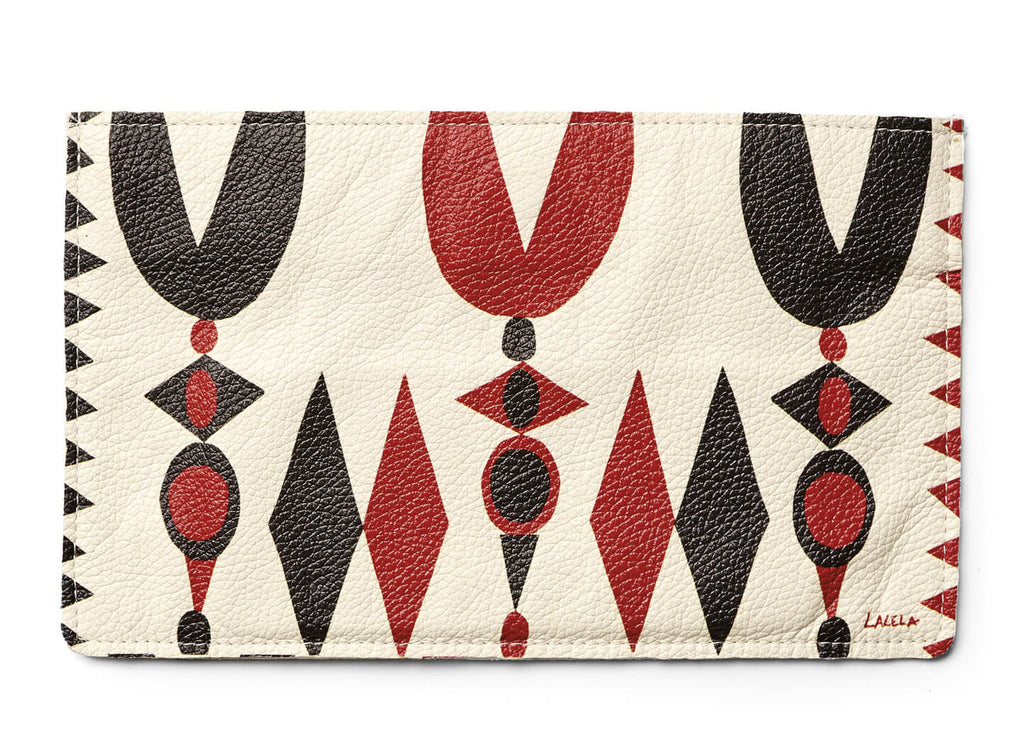 The international fashion brand, renowned for its biannual collections of luxury scarves, has launched a range of fine leather accessories.
Lalela Scarf has now extended its existing product range to include gorgeous leather accessories that show off inspiring artwork created by at-risk youth who participate in NPO Lalela's arts education programme. The new leather range includes handbags that double as clutches and bright, funky luggage tags.
The eye-catching pieces are practical and functional – the handbags can be toted around via a stylish metal handle, or can be folded and kept under one's arm as a clutch. The size is large enough to fit an iPad yet elegant enough to take to a dinner party.
With affordability in mind, Lalela Scarf has also created a line of luggage tags perfect for customers of all price ranges. The luggage tags have a nifty airplane motif and are sure to stand out on airport carousels. Initially, the brand was looking to create something less expensive for corporate gifting; however, the luggage tags became so popular that they were added to the line. "They make great housewarming gifts, perfect stocking fillers, and are a delight for travellers as they are bright and fun," says Heidi McCormack, who runs Lalela Scarf's South African Divison. "
How as the artwork selected?
"I realised that when scarves are worn, you can't necessarily see the exceptional artwork," says Sandy Tabatznik, Lalela Scarf's design director, "I wanted to create a product that better showcased the beautiful designs by our students. Bags and luggage tags were the perfect medium." The artwork is digitally printed directly onto the leather, allowing the grain to show through the artwork and give the bags the beautiful and innate natural texture.
All these accessories are manufactured in Cape Town, as it was one of Sandy's goals to create and produce a product made exclusively in South Africa. "I love being able to showcase the incredible craftsmanship of South Africa, support local and further inspire our learners to become entrepreneurs."
The new Lalela Scarf leatherware really gives meaning to the brand's tagline 'apparel with purpose'. The profit from sales of Lalela Scarf apparel and accessories go towards funding the NPO Lalela, which in turn increases the opportunity for at-risk youth to benefit from arts education.
The new range is available through selected retail outlets in the USA, South Africa and Australia, as well as online via thelalelascarf.co.za or thelalelascarf.org.
Read the full article here.
Please contact scarves@lalela.org for Lalela Scarf enquiries for USA and Europe.
Please contact heidi@africanlabd.co.za for Lalela Scarf enquiries for Africa.
Please contact leigh@lalela.org or oliver@lalela.org for information about Lalela.
Follow Lalela Scarf on social media via:
www.facebook.com/thelalelascarf